Accommodation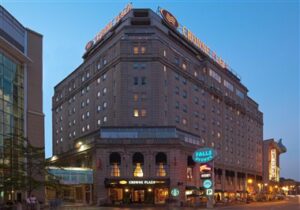 CMVA recommends you stay at the Crowne Plaza Niagara Fallsview, which is also the venue of the National Technical Conference. The event starts early in the morning, you will be close to the action, with all the comfort you would expect.
A classic and elegant four-star hotel located just steps from Niagara Falls, the Crowne Plaza Niagara Falls-Fallsview is an extraordinary hotel destination.
CROWNE PLAZA NIAGARA FALLSVIEW
5685 Falls Avenue, Niagara Falls, ON L2E 6W7
Website: niagarafallscrowneplazahotel.com
Book your room by phone:
1-800-519-9911
Use code VVQ code for special rates
until October 4, 2022.
After this date, regular fees will apply.