Become an exhibitor
In 2021, the Trade Show presents the challenge of being online, like all the programming. However, we are confident that our offer will be able to meet your objectives of promoting your products and services, and your need to meet your customers. After consulting a group of suppliers, we have developed these 3 packages:
Basic Exhibitor Package
Exhibitor page on www.cmva.com with your company logo, your intro text, full coordinates and posting a 2-minute video.
One hour of How to create a promo video mentoring or copy of mentoring session if unable to attend.
Participation in exhibitor's draw, including list of draw participants and contact information who accepted to participate to the draw.
2 general admission passes, for yourself or to offer.
Add Social Media Package
Promote 2-minute video on CMVA LinkedIn page & group (more than 3000 members worldwide).
Promote 2-minute video on CMVA Facebook group.
Post 2-minute video on CMVA YouTube channel.
Add Breakout Room
Imbed 2-minute video, or 2-minute live promotion for breakout room at beginning of presentation.
15-minute breakout room at the end of a presentation
Promotion of breakout room on CMVA website and CMVA social medias.
DOWNLOAD THE 2021 TRADESHOW EXHIBITOR'S GUIDE
Interested in participating as a exhibitor? Login and register here.
Available sponsoring spots in the schedule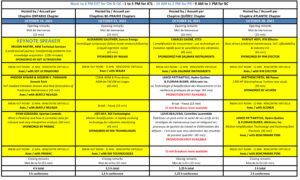 If you become an exhibitor, here are the elements we will need to create your personalized page:
Your logo in high resolution

The ideal format is AI (Illustrator). Otherwise, SVG, PSD or PDF. As a last resort, JPG or PNG

A short presentation text of your company, in English and French (in Word)
Your presentation video

The file will be in MP4 format 16: 9, 1080p, AAC-LC audio codec and H.264 video codec

The web link to which you want us to direct Internet users (full URL please)
Full contact details of your company (phone, address, email, etc.)
The conference you wish to sponsor if you purchase the "virtual meeting room" option.

Download the schedule to make your choice
Send your video file via a file transfer application (such as WeTransfer) to director@cmva.com. All other files and information can be sent by email to the same address.
Need more information? Contact us.