Resonance Testing and Modal Training Course
By Anne-Marie Samson
4 months ago
62 views
Shares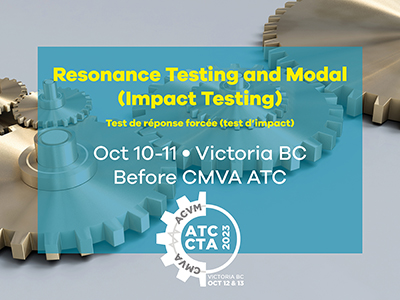 2-DAY COURSE ON OCTOBER 10-11 IN VICTORIA BC
DEADLINE TO REGISTER TO THIS COURSE: SEPTEMBER 19, 2023

Instructor: Dora Orchard, Acuren.
Price per person:
Members – until August 21st  $ 1500, after August 21st $1650
Non-Members – until August 21st  $ 1830, after August 21st $1980
Maximum number of seats: 20
Course duration: 16 hours
Course format: 2-day in-person class at Inn at Laurel Point in Victoria (BC) on Oct. 10-11, before the Conference
What's included:  All attendees in this course will receive:
CSI 2140 Data analyzers and Modal Hammers will be provided for use during this course (Participants are encouraged to bring their own data collectors and Modal Hammers as well, to establish the best parameter setups when performing tests with their own equipment).
Course training materials/handouts.
Certificate of Training Completion.
Know your instructor
Dora Orchard is the senior staff engineer at Acuren Group Inc. in Saint John, New Brunswick, Canada. Since joining the company in 2001, Dora has been involved in numerous vibration monitoring and analysis projects for clients in the pulp & paper, oil & gas, and power generation industries. She performs and directs equipment vibration diagnostics and troubleshooting, as well as various corrective action techniques, including structural modifications (vibration control) and dynamic balancing. Dora has participated in the implementation and management of condition monitoring programs at various industrial and commercial facilities. Her main area of engineering expertise is in reliability, specifically predictive analysis of industrial equipment including  vibration analysis. Working closely with the Acuren Team, she has participated in the development and delivery of various specialized techniques, including IN-SITU™ Roll Balancing and SCORE™ Maintenance Assessment.  Dora is also involved in diagnostics and analysis of equipment vibration problems and development and implementation of solutions for vibration control.