Quebec Chapter Technical meeting & AGM
By Anne-Marie Samson
6 months ago
36 views
Shares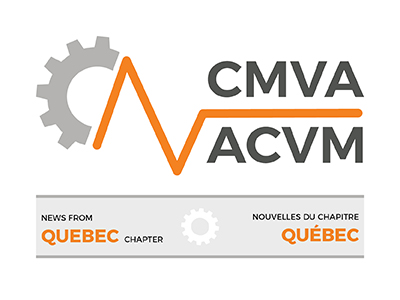 Thrusday June 15, 2023, from 8 am to 4:30 pm, in person
Le Crystal Room, 5285 Henri-Bourassa W., Ville St-Laurent, Québec, H4R 1B7
Heath breaks and lunch will be served.
Please note this meeting is presented in French.
Download AGM Call to meeting and speakers bios
---
08:00  Greeting, registration, coffee and croissants
08:25  OPENING REMARKS
08:30 THE EFFECTS THAT CAN CAUSE VIBRATION, DUE IN PART TO THE OPERATION OF THE BELTS
DANIEL DAOUST, Gates Canada Inc.
Basically, belts, regardless of type, do not vibrate by themselves. This is to detect what is the cause of the vibration. Most of the time, the metal is involved.
09:30  DIAGNOSTIC OF ELECTRIC MOTORS
LOUIS LAVALLÉE, Delom
Most of the equipment we monitor daily is driven by an electric motor. In this presentation, we will study the various problems that affect electric motors.
10:30  Health break
11:00  ANNUAL GENERAL MEETING AND ELECTION AT THE CHAPTER EXECUTIVE OF THE CMVA QUEBEC CHAPTER
Noon  Lunch
01:30  TRAINING & CERTIFICATION
MICHEL LAFORGE, Vibratech, Directeur de la certification ACVM Québec
Who can be certified, who can be accredited? What is the difference? Are we "ISO certified"? Is CAT I mandatory? Also, a new Alignment certification is offered by the CMVA, and more will follow!
02:00 (1) BEARING SOLUTIONS AGAINST CURRENT LEAKAGE PROBLEMS IN ELECTRIC MOTORS + (2) THE BEARING SOLUTION AGAINST SOME TYPICAL PROBLEMS IN FANS
MANUEL GONZALEZ, SKF du Canada
Some case studies, followed by presentation of some samples.
03:00  Health break
03:15 TIME FILTERING: EVALUATION OF THE SIZE OF A DEFECT
FRANCIS PROVOST, Viabilité
04:15  CLOSING REMARKS
---
Registration is mandatory
Please write to acvm@cmva.com  to register.
Members are admitted at no charge. Non-members $ 100.
Become a member or buy your access here https://cmva.com/product/non-member-pass-june-15-2023-quebec/.
Attending a chapter meeting allows you to accumulate valuable points towards the renewal of your certification.