British Columbia Chapter Meeting with Technical Presentations
By Anne-Marie Samson
2 years ago
83 views
Shares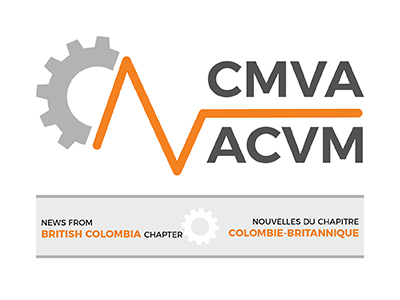 CMVA British Columbia Chapter will hold its  regular meeting with technical presentations
Thursday June 2nd, 2022
at 10 am (Pacific Standard Time)
This meeting will be held on line using the Zoom platform.
Agenda
Chapter meeting

CMVA National Report – Report from BOD Spring meeting
Training and Certification
Membership and Benefits
Treasurer's Report
Technical presentations

Condition Monitoring of Assets, by Shamsher Bhachu

Condition Monitoring involves the assessing of the present condition of the machine related to linking the various conditions i.e. its performance parameters, vibration analysis, lube oil analysis, thermographic inspection and arriving at a sound decision to predict the remaining life of the equipment so that a planned intervention can be carried out to reinstate the equipment to it original fit for purpose state. OEM provides the planned maintenance intervention schedules; Condition Monitoring extends those intervals to reduce the resources required by the Company and increases the ROI for the Company.

Presentations to be announced
The chapter is still looking for two short presentations (approximately 20-30 min). These can include case histories, diagnostic techniques or lessons learned.Please contact:
Colin Ostergard  colin.ostergard@acuren.com
or John French jfrench86@hotmail.com.
Open discussion
Closing remarks
---
To sign up for this meeting
Members may participate for free. Non-members cost is $100.
Become a CMVA member ($120/year) and attend free of charge all year-round to chapter technical meetings, amongst other benefits!
To proceed to payment of your membership or your access to this conference, please go to the CMVA Store.
Preregistration is required for this Zoom event
Register for the British Columbia Technical Conference here
The video conference attendance procedure and start up will be emailed the day prior to the meeting
As a reminder, individuals presenting at chapter and national events or deciding to help on a Chapter Executive Committee or National Board of Directors will earn valuable points towards recertification.
Additional information:
Colin Ostergard | colin.ostergard@acuren.com