Quebec Chapter AGM & Technical Conference
By Anne-Marie Samson
2 years ago
121 views
Shares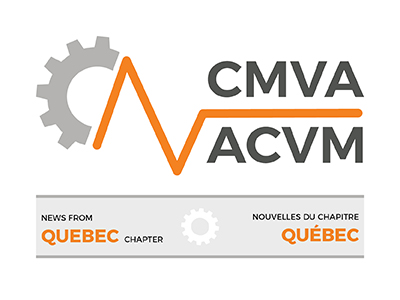 The Quebec Chapter will hold its AGM and Technical Conference in person and via Zoom. Please note this event will be exclusively in French.
Wednesday June 15, 2022




from 8 AM to 3 PM (EDT)


Restaurant chez Milot
394, chemin de la Grande-Côte
Boisbriand, QC J7G 1B1

*** Program and AGM documents may be downloaded here
Agenda
Opening remarks
Technical presentations

Étude de cas d'un bris de roulement dans un réducteur de vitesse
by David Lévesque, Viabilité
Étude de cas d'un suivi vibratoire d'un réducteur sur lequel on a vu l'évolution d'un défaut de roulement apparaître seulement un an après qu'il ait été reconditionné.
Diagnostic d'un problème vibratoire sur une turbine hydraulique avec FFT sur capteurs de pression
by Patrice Huard et Guillaume Dubois, Hydro-Québec
Une turbine hydraulique a connu des vibrations qui étaient perceptibles au plancher mais qui était absentes aux proximètres des paliers. Une inspection mécanique n'a révélé aucune anomalie. Des mesures de pression et un FFT sur le signal de pression ont permis de cibler la source du problème. Des accéléromètres ont étés installés sur les directrices et le problème a été identifié.
Annual General Meeting and elections
Certification : reconnaissance des compétences
by Michel Laforge, Vibratech, Directeur de la certification ACVM Québec
Michel Laforge explique l'importance de la certification, tant pour les travailleurs que pour les employeurs, et ce, à tous les niveaux de la gestion de la fiabilité en industrie. L'accréditation de l'ACVM à la norme ISO 17024 sera aussi abordée.
Technical presentations

Études de cas diverses sur les réducteurs de vitesse
by Francis Provost, Viabilité
Présentations de quelques études de cas de suivis vibratoires de réducteurs de vitesses et les techniques qui nous ont permis de réaliser un diagnostic pour des clients.
Topic to be determined
by Béchir Badri, Betavib
---
To sign up for this meeting
Members may participate for free.  Non-members cost is $100.
Become a CMVA member ($120/year) and attend free of charge all year-round to chapter technical meetings, amongst other benefits!
To proceed to payment of your membership or your access to this conference, please go to the  CMVA Store.
Preregistration is required  for this event
To participate in person, register at acvm@cmva.com.
To participate through Zoom :  register here
As a reminder, individuals presenting at chapter and national events or deciding to help on a Chapter Executive Committee or National Board of Directors will earn valuable points towards recertification.
Anne-Marie Samson, Secretary | acvm@cmva.com