Come Zoom with us and learn: Atlantic Chapter Technical Conference
By Anne-Marie Samson
3 years ago
126 views
Shares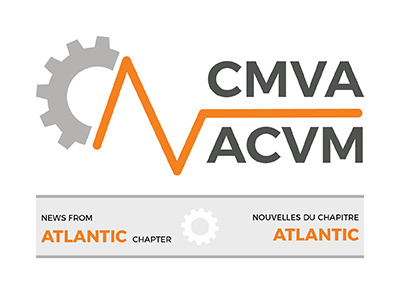 CMVA Atlantic Chapter will hold a Technical Conference and quartely meeting on
Tuesday May 11, 2021, from 10 am to 4 pm (EST).
The meeting will be held online using the Zoom platform.
Agenda
Chapter quarterly meeting
from 10 to 10:45 am
Technical presentations :
GEAR VIBRATION PROBLEM ON PAPER MACHINE DRYER
with Mr. Ken Squires, from 11 to 11:45 am
---
RECIPROCATING COMPRESSOR ANALYSIS
with Mr. Jordan Wood and Kyle Arsenault, from 12:30 to 1:30 pm
---
MOTION AMPLIFICATION TECHNOLOGY AND FASTENING BEST PRACTICES
with Mr. Janos Pattantyus and Florian Buder, from 1:45 to 2:45 pm
---
FAN VIBRATION DIAGNOSTIC AND RESOLUTION
with Ms. Dora Orchard, from 3 to 4 pm
Atlantic Bursary application
The Atlantic Bursary Application Deadline is May 20, 2021. The bursary application can be downoaded here.
To sign up for this meeting
Members may participate for free. Non-members cost is $100.
Become a CMVA member ($120/year) and attend free of charge all year-round to chapter technical meetings, amongst other benefits!
To proceed to payment of your membership or your access to this conference, please go to the CMVA Store.
Preregistration is required for this Zoom event
Register for the British Columbia Technical Conference here
As a reminder, individuals presenting at chapter and national events or deciding to help on a Chapter Executive Committee or National Board of Directors will earn valuable points towards recertification.
Matthew Firth, Atlantic Chapter President, MFirth@nbpower.com.