By Anne-Marie Samson
4 years ago
82 views
Shares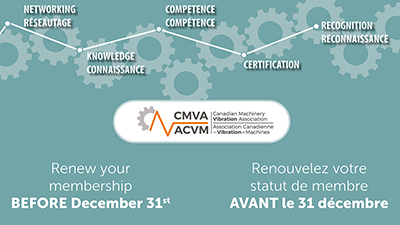 FOR ALL MEMBERS
Free admission to your chapter meetings
Special rates for Annual Technical Conference registration
Access to the new knowledge containing dozens of outstanding papers on various topics
Subscription tp the ViBs Bulletin
Subscription to the ConnecT Newsletter
Various occasions of networking with professionals in your field
Personal growth and development of competent certified analysts
Opportunities to further develop skills and knowledge to assist in certification renewal requirements
Discounted rate for certification renewal.
IN ADDITION, FOR CORPORATE MEMBERS
Individual benefits for up to 5 people (names can be changed during the year)
Enables your company to further develop reliability by enriching your reliability team
Add additional members at 25% off the regular individual price
Special rates for Annual Technical Conference booths
Have your logo our CMVA's website with link to your website
Advertise your vibration analysis courses leading to certification (conditions apply)
Mention of your support at the Annual Technical Conference
Option of placing a "help wanted" ad on the Members Section of the website (coming soon).
Advertising in the ViBs Bulletin at a reduced charge (coming soon).