Technical Conference & AGM agenda online for Ontario Chapter
By Anne-Marie Samson
4 years ago
98 views
Shares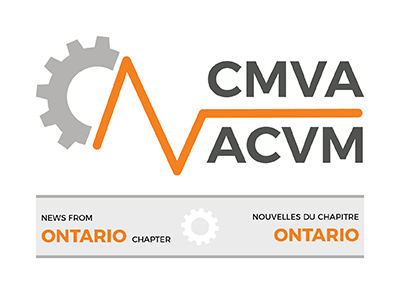 CMVA Ontario Chapter will hold its Annual Technical Conference and General Meeting on
Tuesday, May 26, 2020, from 09:00 am to 12:35 pm EDT.
The meeting will be held online using the Zoom platform.
Agenda
09:00 : Pre-job Brief, Andrew Sit, Moderator
09:05 : Welcome, Grant Akitt, CMVA Ontario Chapter President
09:10 : Transient Vibration Testing, Jake Zwart, Spectrum Technologies
09:55 : Break
10:00 : Chapter Annual General Meeting
Chapter President's Address
Treasurer's Report
CMVA National Update by the CMVA National President (Matt Holmes)
Chapter Executive Committee Elections
10:40 : Sensor Selection Made Easy, Paul Gonsalves, Dalimar
11:25 : Break
11:30 : Motion Amplification: Innovation Adds More New Measurements, Janos Pattantyus, RDI Technologies
12:15 : Open Discussion & Closing Remarks, in-coming CMVA Ontario Chapter President
As a reminder, individuals presenting at this event or deciding to help on the Chapter EC will earn valuable points towards recertification.
We will hold our elections for the Chapter Executive Committee. As some Executive Committee members are looking to step down, and along with current vacancies, we are in need of chapter members to step up and take on leadership roles.
Please feel free to contact Ontario Chapter President, Grant Akitt (granta@pdmtechinc.com) or CMVA Executive Director, Ken Keith (director@cmva.com) to discuss leadership opportunities in the CMVA. This meeting will be open to all CMVA members however sign-up priority will be given to Ontario Chapter members.
To sign up for the ATC
Please send an email to: cmva.ontario.ec@gmail.com