Three videoconferences under the theme of bearings
By Anne-Marie Samson
4 years ago
87 views
Shares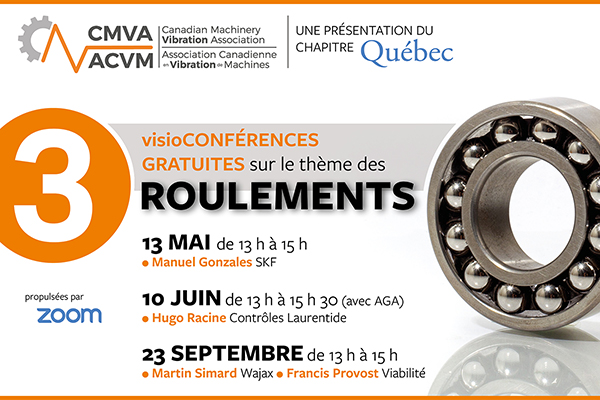 The Quebec chapter improves services to members despite the health rules imposed by COVID-19 and  presents this year three free technical video conferences for CMVA members. The Quebec chapter will also hold its Annual General Meeting of members.
Technical conferences will be powered by ZOOM. You can access by computer, tablet or mobile phone.
To register
Write to acvm@cmva.com indicating which conference (s) you wish to attend. A Zoom link will be sent to you before each conference.
Limited to 100 virtual seats. Because admission to events is free, we will grant registration priority in this order:
CMVA member Quebec chapter
CMVA member other chapters
non member becoming member immediately
non member on waiting list with confirmation the day before the event
Need assistance using Zoom? Do not hesitate to contact us. We will be happy to guide you.
---
Program
Please note all presentations are in French
---
Wednesday May 13, 2020 – from 1 to 3 pm
Characteristics and advantages of different types of bearings
Examples of typical applications
Speaker: MANUEL GONZALES, Applications Engineering Expert, SKF of Canada Limited – Montreal Office
An engineer by training, Mr. Gonzalez started his career at SKF in 2006 as an application engineering intern and his career continued in 2008 as an application engineer. As application engineering position he holds since 2019, his focus is mainly on certain customers and types of key industries, for which a high level of technical knowledge is required. His expertise covers bearings, lubrication and sealing. His field of activity is mainly industrial, both among end users of SKF products and among machine designers. His role is to provide engineering support in relation to SKF products for rotary machines, for example: product selection and verification for a given application; rotary machine optimization; problem diagnosis, bearing failure analysis, technical training.
---
Assessment and monitoring of bearing faults
Wednesday June 10, 2020 – from 1 to 2 pm
Bearing fault detection method
Severity assessment
Evolution tracking method
When to replace a bearing
Case studies
Speaker: HUGO RACINE, Conditional maintenance consultant, Contrôles Laurentide
Hugo Racine, a junior mechanical engineer, completed his bachelor's degree in 2015 at UQAC. He worked for a year as a project manager in a company specializing in welding, assembly and machining before being hired at the end of 2017 by Laurentide Controls. He started as an on-site vibration technician in a pulp and paper factory, then moved on to reliability engineering in late 2018. He is now participating in the development of online machine condition monitoring solutions as well than studying and solving complex vibration problems. Mr. Racine obtained the following certifications: MLT-MLA 1, CAT 2 CMVA vibration analyst, level 1 thermography analysis.
Annual General Meeting
Wednesday June 10, 2020 – from 2 to 3:30 pm
The technical conference will be followed by the Annual General Assembly of the members of the Quebec chapter during which we will proceed to the election of the chapter executive for the year 2020-2021.
Wish to get involved in your chapter? This is the perfect opportunity! To apply for one of the positions, express your interest to Anne-Marie Samson at acvm@cmva.com. There may be more than one candidate for a position, in which case there is an election.
Documents to download:
---
Wednesday September 23, 2020 – from 1 to 2 pm
Types of housings and bearings used on this kind of equipment
Different designs on the market
Choice of bearing
Speed and load ratio analysis
Choice of internal clearance vs load area
Choice of sealant and lubricant
Proper installation and tools to use
Alignment, enclosure security and first start
Balancing, vibration and temperature
Recommended maintenance
Speaker: MARTIN SIMARD, Major Projects Account Director, Wajax
Martin Simard is an engineer with 25 years of field service experience for a bearing manufacturer, as a sales representative, and in the factory as a maintenance and reliability engineer. He is also registered with the government as a certified trainer.
---
What you need to know about frequency modulations when analyzing a bearing
Wednesday September 23, 2020 – from 2 to 3 pm
Explanation of frequency modulation produced by a damaged bearing
Distinguish problems arising from critical problems
A few traps analyst should avoid
Other explanations on the analysis of bearings which will not have been covered by the other speakers
Studies of some cases which demonstrate the theory presented
Speaker : FRANCIS PROVOST, Founding President, Viabilité
Francis Provost is President of Viabilité, a company specializing in predictive maintenance and vibration analysis. He completed his studies at the École de Technologie Supérieure (ÉTS) in mechanical engineering in 2005 and has been teaching at ÉTS for 13 years the "Maintenance techniques and reliability" course as a lecturer. He worked at Delom Services for more than 8 years as an expert in vibration analysis and founded Viabilité in May 2012. Since then, the company has experienced significant growth year after year. He also holds the position of technical director in the Quebec chapter of the Canadian Machine Vibration Association.
---
To register
Write to acvm@cmva.com indicating which conference (s) you wish to attend. A Zoom link will be sent to you before each conference.
Need assistance using Zoom? Do not hesitate to contact us. We will be happy to guide you.